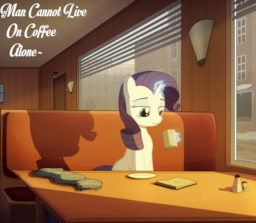 Source
This story is a sequel to Man Cannot Live On Tea Alone
---
Jake is a human, pulled into Equestria by a magic mishap. Rarity is a fashionista, businessmare, and all-around interesting pony. Jake and Rarity go out for coffee and conversation, and enjoy each other's company. Can Jake match wits with Rarity? Can he keep up with the savvy, sassy mare that he's come to appreciate?
No. No, probably not.
Rated T for Sassy Waitresses, Blushing Ponies, and Ponies That Are So Cute They'll Make You Die. (Oh, and violence!)
Story inspired by gign-3208's beautiful art.
It is highly recommended you read the prequel story first, but this story can stand on it's own thanks to a preface at the beginning that can bring new readers up to speed.
Special thanks to SS&E, Fourths, and Jern for editing.
Chapters (14)