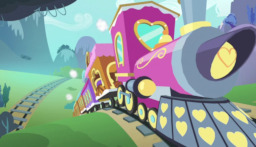 Home to a wide variety of species and their various communities, the planet Equus is shared peacefully between prey and predators alike.
And, in her ever present benevolence, Princess Celestia has kept an open door policy on immigration into her, almost, Utopian country for years. So when a fumbling Anon suddenly appeared in Canterlot one day nobody panicked, he was peacefully taken to the Princess and explained his predicament to her. Understanding his situation, the Princess informed him that she would try her hardest to help him, but that it could also be awhile before there was any major progress in that effort.
So, with nothing better to do, the human applied for the reasonably easy Equestrian citizenship. Princess Celestia, hearing about this, decided to help Anon with his efforts and sent the human to Ponyville under her former pupil's charge, believing that it would be easier on him and to help the lonely human make some good friends along the way.
If only she knew how much suffering would come from that foolish decision.
(Part of Vol.1 of the One Shot O'Clock)
Chapters (1)