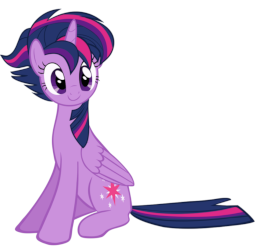 Coverart from HERE
Set shortly after the season 5 premiere, but before episode three
Romance tag readded due to a lack of a certain mare having a ship in the finale.
Normally, Ken wouldn't have minded finding an excuse to get out of school. However, being hit by a car and suddenly waking up as a strange four legged creature with purple fur, wings and a horn is not something he'd have chosen just to play hooky.
Now in a world he continually doesn't understand and makes him... now a her, want to pull her hair out, Ken must learn how to coincide with the creatures of Equestria, while finding her place in this bizare world that defies all senses of logic she was raised with. On top of that, she's now apparently a princess and has to deal with nobles fawning over her, including one male who she knows is definitely just trying to get into her new female parts to breed, and she'll have none of that.
Of all the things she could've chosen to get out of school, this was definitely not one of them and she just wants to go back to normal. Sadly, that doesn't seem likely to happen any time soon.
Though not pertaining to the main character, Romance tag does still apply to other characters in this story. It's just the Tag Limiter wouldn't let me keep Romance Tag after I edited the description a little, so had to remove the tag, even if it still holds some small weight on the story.
Featured Box 16-18/8/2015. Okay. Seriously did not see that coming.
Popular Stories 16-20/8/2015
Featured Box again 6/11/2016 if only for a few moments.

I... I honestly don't know what to say

Featured again? Really? Thank you guys, so much


Chapters (24)