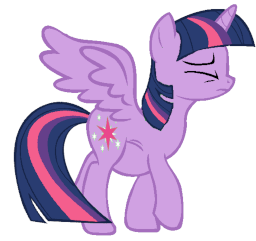 This story is a sequel to Castle Clean Up
---
Coinciding with Quick
Written with permission from Tittysparkles and TheDudeAbides
Coverart from here
Twilight has been using her discovery with the Want It, Need It spell to satisfy her urges ever since and decides it is the best way to deal with her heat this season, so she doesn't have to suffer through it, nor look for a stallion to help her, while making sure said stallion doesn't knock her up, the latter of which she won't do due to being a fillyfooler.
However, she is so intent to rid herself of her heat, she forgets one crucial detail whilst having her futanari clones help her through it. Mares can get pregnant when in heat if somepony releases inside their womb, a fact she learns all too well. Her only comfort is confining in Cadance, the only pony who knew Twilight was having orgies with her own clones.
Now, pregnant with her own child, Twilight must figure out how to explain to her friends, her parents, Celestia and, worst of all, her brother, that she got herself pregnant... with herself.
Along with dealing with the difficulties pregnancy brings on its own, Twilight will have to deal with how the rest of Equestria will react to the idea that she sired her own child.
Luckily for her, there is another pony coming to grips with the idea of sudden motherhood; somepony Twilight is very surprised to meet again.
Note: When it says she gets herself with herself, it means one of her clones got her pregnant, not that she's pregnant with another her.
TittySparkles story just opened this thought in my mind the moment i read it, though i kept in inside until now.
In Popular Stories from 13-15/8/2015.
Chapters (1)