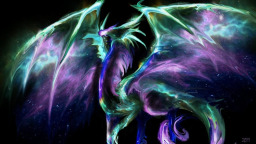 Sol was a stallion living a secret life, but after an incident involving his father's side of the family, he was hidden away and sealed within a crystal. That was over one thousand years ago, and has since then remained dormant, waiting to be awakened to aid Equestria in a time of dire need, or when it's finally safe enough for him to return. At least, that's how it was supposed to go.
Having been accidentally awoken, Sol must now adjust to the present world, cope with what he's lost with time, sort out his growing feelings for another pony, and eventually, accept his position in this modern-day Equestria. However, even after a thousand years, some grudges aren't so easily forgotten.
Note: Tags may be added as the story progresses.
First Featured on 3/25/17

Chapters (65)