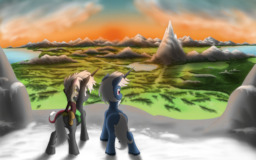 Source
This story is a sequel to Divine Entertainment
---
Atlas, Discord and Starswirl have safely arrived in the newly founded Equestria. The ponies that came before them already built up quite a few flourishing cities, setting aside their differences and living together in harmony.
Close to one such newly founded town, Atlas built what he personally insists on calling a "secret lab" where he conducts research and experiments to gain a better understanding of runic magic. Assisted by his adopted son Discord and his scholarly friend Starswirl, they'll have to recreate this lost art if Atlas wants to be prepared for the foretold showdown between the greek gods. All while keeping an eye out for the events that are supposed to bring the true Equestria into existence.
This sequel story will focus mostly on Atlas' research into runes and the timeline that is known to him. Therefore I've decided to replace the adventure tag from the last story with slice of life, although there might still be some adventure-y chapters.
---
Cover Art by Navanastra, go check out his awesome stories!
Join the Discord, where you can discuss the story, but also just make new friends!
Divine Universe, the FimFic group all about the Divine Entertainment universe!
Research! Arc:
Chapter 1 - 4
9'208 Words
Travels! Arc:
Chapter 5 - 7
12'858 Words
Research 2, Research Harder! Arc:
Chapter 8 - 11
7'920 Words
The Two Sisters Arc:
Chapter 12 - 23
38'885 Words
Equestria Arc:
Chapter 24 - xxx
Chapters (29)