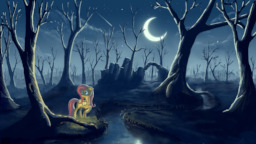 Source
Shattered Skies has lived quite some time. He had done well for himself over the past few thousand years; staying out of the public eye and remaining generally uninvolved from pony society while he tended his forests.
Who wouldn't want that, right?
His job came with excellent security and fringe benefits, but after he was betrayed by a princess he trusted, all he wants to do is to live a normal life even if the world tells him otherwise.
Oc disclaimer: The original characters that appear in the story that are not my own have been obtained from the original owners via written permission.
Chapters (44)