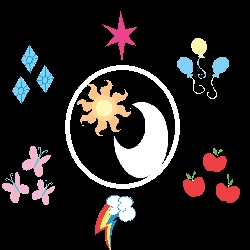 The story of a brony named Kyle who also happens to be a sarcastic ass with a horrible sense of humor! Can he take his new life in equestria? Or will the secrets he discover tear him apart?
The first fourteen chapters are written as if Kyle is looking back on it, writing from memory along side the company of princess Luna. Chapter 15 is when we catch up to his timeline, enjoy! (This fiction is finished. Just so you all know.)
Note, Sticking this here. THIS FIC WILL NEVER CONTAIN CLOP. Just saying. There may be references or hints. but never clawp. Evur. And don't ask me to write any either. Clop is...Scary. everyone has there problem points, Mine is porn and settings. So yea. Do people actually read these?
WARNING: This story wont be for everyone, The character in the book (And myself) Tends to ramble on with his thoughts leading them down unusual alley ways and beating them to death with sticks.
Also, First story ever submitted to...Anywhere. Most of it written while very cold. so my typing may be off. If you see any mistakes, please don't be afraid to tell me where they are, constructive criticisms also welcome.
Chapters (90)