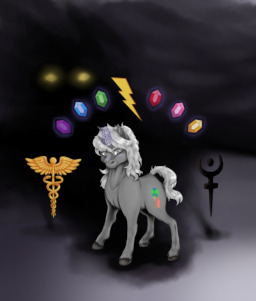 This story is a sequel to Divine Indifference
---
For over a thousand years Atlas had been holed up in a mountain, working tirelessly on the only way to save the planet Equus and himself from certain doom. Alas, an unexpected event throws all his plans out of the window. He is running out of time and needs to find a solution as fast as possible, or everything he fought for might just disappear into thin air.
As the revolutionary fight of the gods reaches its climax, Atlas is caught up in a race against time. He will have to work together with his old friends to pull off a miracle before it's too late.
---
Cover art by The Spirits Demise thank you very much!
Join the Discord, where you can discuss the story, but also just make new friends!
Divine Universe, the FimFic group all about the Divine Entertainment universe!
Support me on Patreon!!
Chapters (17)