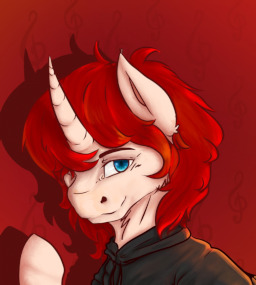 After what must have been the most epic of benders ever bent in the history of alcohol and metal combined, James finds himself waking up in a new world, crammed into an unfamiliar new body.
Left with little to no choice in the matter, he has to adapt to this new situation, all the while looking for a possible way back home. As if all of this wasn't already crazy enough, this world seemed to be inhabited by technicolor ponies which worshipped powerful beings called: Alicorns.
After finding out that he was indeed an alicorn himself, he decides to keep this fact a secret. Being crowned as a prince would surely invite more trouble than it was worth.
---
This story is inspired by Snorting Gentlemans story: Alicorn of Music: Reliving The Childhood. The idea behind the story always fascinated me, and, with Snorting Gentlemans permission, I've decided to write out my own twist at it.
This is just a side project for me, so updates will be irregular.
Cover Art by the amazing The Spirits Demise.
Chapters (9)