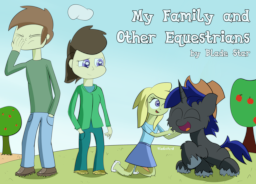 When our protagonist awakens in the Everfree Forest, he is not alone. Transformed into a creature he once thought to be fictional, and accompanied by his close family he must find his way through this new land. Can he build a new life for them all in Equestria, and how will the ponies react to these strange creatures? Particularly when they find out about a certain TV show.
Comments and criticisms appreciated.
(Not a self-insert)
Thanks to Wadusher0 for the cover art.
Updated every Friday.
Featured on 05/09/2014 (or 09/05 if you're American)
Featured again 05/12/2014 Thanks again, everypony!
And again on 09/01/2015
Chapters (101)