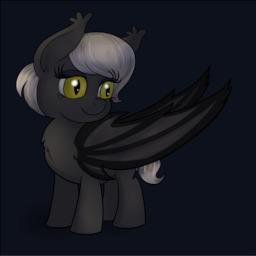 A continuation of "Jake and the Kid"
Warning.
You really need to read that story first.
Goose Down wanted to be a Guard Pony more than anything else in her life, just like her Father, numerous uncles, and six big brothers. Unfortunately she was small, a Nocturne Mare, and, oh yes, had a phobic fear of the open sky.
Combined that with her mistake of getting in the wrong job application line at the palace and ending up a maid, things look very dim indeed in regards to realizing her dream.
On the plus side, she works for the Princess of Dreams. So maybe, with a little help from her friends, and a very different type of princess, she will manage to achieve her heart's desire.
With a few minor modifications.
Proofed and contributed to by Georg, who also graciously allowed me to steal some of his better characters. Georg really needs a co-writer credit on this. He contributes so much during his pre-reading that the stories simply would not be the same without him.
Be sure to catch his Nocturne stories, especially Diplomacy by Other Means.
Chapters (17)