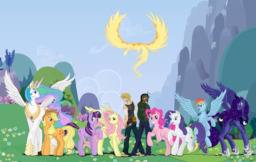 Chris and Keon are two zoology majors that get separated from their class after following what Chris believed to be an undiscovered species of bird, during a trip into the Amazon rainforest.
Finding themselves stuck in a pit, they discover an ancient ruin adorned with murals and statues of what they believed to be ponies. They soon realize that the bird in question was the orchestrator of their fate, as they're brought to what they are certain is their deaths.
Waking up, they are not only separated from each other, but in a new land entirely. Will they take this opportunity to learn about creatures only ever seen in legend, or will they be too busy being studied themselves?
Rated teen for sexual themes, crude humor, mild drug use.
(Edited by DF)
Chapters (21)