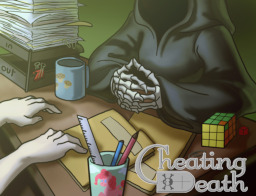 Source
Revised as of 06/06/2013
Felix Jackson died saving a little girl from a train. Fortunately, it wasn't his time to go and Death was just about to send him back. But Felix pulls a fast one and tricks Death into sending him to Equestria. And Death is none to pleased about this. It's tough enough to avoid death on earth; but when you're the only human in a world of miniature technicolor ponies, hiding becomes all but impossible.
------------
Revision editing done by HoovesMcCoy, AuthorGenesis, and Anonymous
Pre-reading done by Hortense, Wazaga, Fantoche the 13th, Sallythemanatee, and munomana.
Chapters (8)