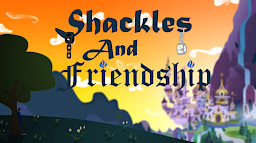 'What is it about humans that urges them seek out so many endeavors in order to feed their desires? Greed, power, family, friends, philosophy, knowledge; infinite goals and infinite reasons behind them. Whoever or whatever created these beings are either cunning; to create self motivating creatures that will constantly push the limits of what's possible, or downright cruel; never truly allowing them to feel true fulfillment or satisfaction. The point is humans were created with a void, a missing piece left intentionally empty never to be filled, an undying hunger.'
A bit grim right? The names Rodney, and in case you're wondering, this is the story of my life. A life of Magic, Gods, and regrettably, Ponies. Yeah, freakin-multi-techno-collored-goody-ponies.
But it's not all bad really, got way healthier with a more green diet. Though the lack of meat can be painful at times, that one landed me in less than desired situations. I get to screw with innocent ponies on a regular basis. Didn't kill myself or everyone else with me either. So not a bad deal really, even ended up retiring as teacher.
Teen for language and some adult themes.
This takes place before season 3.
HIATUS: Currently at a programmer's boot camp. Will be done late June 2015.
AN: If you can see past my cruddy writing skills there's plenty to tickle your funny bones, I hope. First attempt at writing a fic.
Chapters (49)