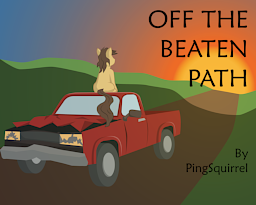 What happens, happens. I think that is one of the rules of Causality as stated by the late, great Douglas Adams. It is a pretty important rule and I use it to guide me through life, no matter what goes on in it. So, when I was driving to an out of town job and found myself in another world, I did my best to take everything in stride.
I would be the first to say the adjustment is not easy. Especially, when the first thing you do is make yourself a pony distrusted, disliked and defamed by some national heros. Thinking about that, I think I have to invoke another Douglas Adams quote. "Don't Panic."
--
This is the result of me getting bored one day and starting writing. Now that I got a bit of it done, I wouldn't mind honest opinions, and flame away if you feel the need. I have thick skin.
As you might notice, there are a few chapters with a box at the top. These are the ones that my editor and I went through again, and hopefully improved. I'll refrain from changing plot but spelling, grammar and flow are all up for grab. Especially for the early chapters.
Chapters (26)