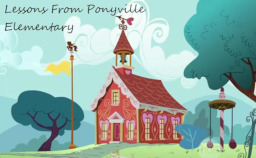 This story is a sequel to Tales From Day Court
---
A spin off/sequel to 'My Family and Other Equestrians'.
Living in Equestria with the rest of her family, Margaret has taken up a job at Ponyville's schoolhouse. Working alongside Cheerilee, she returns to the familiar life of maths lessons, spelling tests, exams, lovable students, and dealing with insufferable helicopter parents. But this is Equestria, and that means more than the odd spanner in the works from time to time. Join this semi-retired teacher, pulled back into the work she loves, as she gets to grips with cutie marks, magic lessons, and the general chaos that is the life of an Equestrian schoolteacher.
Set during Season 5 and runs parallel to 'Tales From Day Court'.
Updated every Friday
Chapters (19)