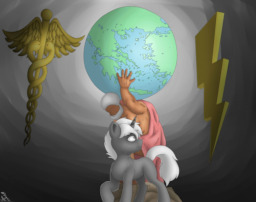 Source
On a fateful night, Alex wins the divine lottery and is approached by Hermes, an Olympian god. He is promised one wish, whatever it may be.
Alas, the encounter doesn't quite work out like he hoped it would.
Alex finds himself thrown into a world that is wholly unfamiliar to him. Gone are his dreams of meeting the mane six. He doesn't even have the luxury of keeping his human form.
Having to deal with an unfamiliar surrounding and a new body, this story follows him on his way to find his own place in this alien world.
---
Character tags will be added as they become relevant. Teen rating is mostly for some bloody scenes. (nothing too gory). Also, the prologue plays far off in the
future of this story and we won't be returning to that point in quite some time.
Join the Discord, where you can discuss the story, but also just make new friends!
Divine Universe, the FimFic group all about the Divine Entertainment universe!
Arrival Arc:
Chapter 1 - 9
23,198 Words
Journey Arc:
Chapter 10 - 28
48,381 Words
Scholar Arc:
Chapter 29 - 63
133,627 Words
Disclaimer: You may encounter several broken image links in the notes of this story... sorry.
Chapters (64)