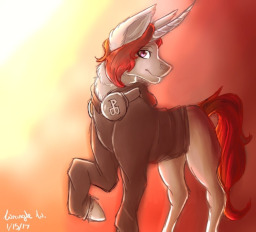 This story is being rewritten. If you're new to this one, I recommend starting reading the rewrite instead – click here.
Metal-loving human ends up in Equestria as an alicorn colt, and it so happens that there is no music of metal there. He's not fine with it.
He has to adjust to his new life... And make a plan of how to bring metal to Equestria, even if it means waiting years through his second childhood. He will have to adjust to the new world, new culture, new society. His views will be tested, his opinions will be changed. One way or another, he will have to adapt to the new and strange world.
Nevertheless, metal will be brought to Equestria and for all the world to see!
This story tackles such things as religion, relationships, and sex. The view of Equestria presented in this story is different from what most people expect.
---
Cover art and the portrait of the character done by a wonderful person. You should check him out on Google+
Editing of some chapters was done by DashItAll
Spoilers in the comments. Beware!
The story was inspired by one of my friends, who happens to be a metalhead and music lover.
The story starts at the first episode of the first season.
If you don't like stories about OC alicorns, please consider reading it, I promise not do disappoint. Well, at least not too much.
Constructive criticism welcome.
Join the Discord to discuss the story and get to know other people who like my stories!
Support me on Patreon if you'd like!
Featured on 11.02.2017. Also, it might've been featured earlier, but I didn't keep track back then.
Reached 666 comments. What's more metal than that?
Featured on 19.02.2017, 20.03.2017.
Chapters (72)