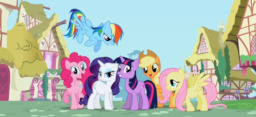 Source
A collection of short stories with Toby experiencing his first holidays in his new home.
It has been several months since Toby has been brought to the land of Equestria by Princess Luna. His wish came true as he found a family in his loving mother in Equestria, Fluttershy, along with his Aunt Rarity, Twilight, Rainbow Dash, Pinkie Pie, and Applejack. After enduring the heartbreaking loss of his mother, and to know that his own father, James was behind it, Toby found a father figure he deserved in Applejack's older brother Big Mac.
He has made wonderful friends in Ponyville such as The Cutie Mark Crusaders who has taken the role of his big sisters, and have made great friends in Silver Spoon and Diamond Tiara.
After finally finding a new home in Equestria and letting go of the past as his father lies in jail for his crime, it is time for Toby to experience the great times that come in this new land and celebrate the holidays of Equestria.
Chapters (7)