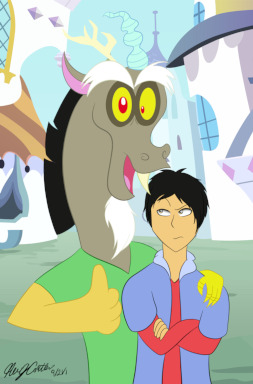 This story takes place in a continuity where the human and pony worlds have been in contact for three years. Our main character is Eric, a human who lives in Canterlot as an aspiring writer. He's relatively new to the pony world, and he loves everything about it.
Well... almost everything.
There's one thing that never fails to get under Eric's skin: his next-door neighbor, and our second main character, Discord. The guy constantly comes into his house uninvited, eats all the food, and, well, causes chaos! His venting about his never-ending on-and-off relationship with Celestia doesn't make things any better, either. Eric and Discord have lived next to each other for a year now, and the two still maintain a complicated frenemy relationship.
To add to Eric's complications is his crush on Azure Gem, a mare that works across the street from the bookstore where he works. His goal of getting her to like him is second only to his worry that Discord will screw everything up.
This story contains anthro ponies and modern technology since the humans and ponies have been in contact for a while. I won't go all-out though. Ponies still write letters from time to time, and they won't be driving cars everywhere.
Oh, and enjoy!
Cover art drawn by me. The background is a stock vector.
Chapters (9)