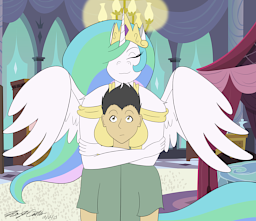 My name's Marcus. Marcus Cortez. I'm currently a freshman at CUFTA. You don't know what that means? Well, it stands for "Canterlot University for the Arts." While it is a little unsettling to go to college in a completely different world from my own, and while being a human in a school full of mostly ponies is a little intimidating, I'm doing fine so far. I don't have to worry about roommates, since I don't live in a dorm. I live with my aunt.
Her name is Celestia. Princess Celestia.
You're probably wondering how a human could be the nephew of a pony, and an alicorn princess, no less. Well, it's quite the story.
In case you haven't guessed yet this is an anthro story, and my first time writing a story in first person, so we'll see how this goes.
The prologue for this story starts sixteen years prior to the return of Nightmare Moon and the story's main events take place after Season 3 ends.
The cover picture is an original drawing of mine.
Edited by danail24
Chapters (29)