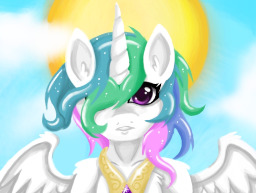 Taking a short cut across the beach was a bad idea during hurricane season. One arrived without warning, and Gray spotted a sturdy looking shed, he sprinted towards it for cover. But then a powerful wind swept him up...
....Princess Celestia looked out the window from her throne at the heavy storm. She went back to her paperwork, which was blown from the table by an unseen wind. There was a flash and a silhouette flew through the air, rolling to a stop at the bottom of her dais...
Okay, so this one isn't my idea. I am being give them, and am fleshing them out. This one, for once, will be proof read/edited by KnightFlower. Mainly because he's the one given me the ideas and he asked me to write it for him. Didn't think I was that good at writing! If you want to add this to a group, can you please ask me first? Thank you.
No, that does not mean I'll be doing other requests, at the moment. Dark tag added for some small bits.
Chapters (23)