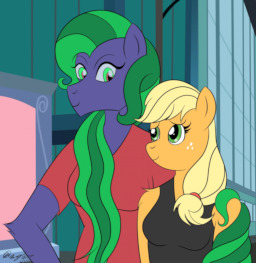 This story is a sequel to Found You!
---
Luxurious Locks, formerly known as the Mane-iac, loves her boyfriend, Aaron. She'd do anything for him, and there's nothing she'd love more than to spend every waking moment with him.
Except when he's at work.
With nothing to do while her lover's away, she decides to spend an afternoon with one of her ex-nemeses turned close friends, but there's something fishy going on, and Luxi can't help but wonder what it is.
---
This is an HiE Anthro one-shot taking place in the Power Ponies universe, so the Mane 6 are not the Power Ponies. I totally didn't copy and paste this from the first story.
It's also highly recommended that you read the first story before diving into this one.
Rated teen for mild language and mild sexual references
Cover art by me.
Chapters (1)