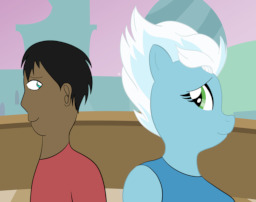 Cory's a human transfer student at Canterlot University. His parents pay all of his school expenses while he pays for food and living expenses. He's got a decent job and he splits his bills with his roommate, so he's living relatively well. The only problem is that he doesn't know what to do with his life. He's meant for something more, he knows it, but he can't figure out what it is.
Fleetfoot is a member of the elite flying team, the Wonderbolts. She isn't as popular as Spitfire and Soarin, but she doesn't mind that one bit. She loves being a Wonderbolt, she really does, but she feels like something's missing.
When these two cross paths, will they hit it off? If they do, will it even last?
Supporting characters include Spitfire, Soarin, and Gaffer from the MLP comics.
Cover art by me.
NOTE BEFORE READING: This story takes place within the same universal context as my previous story, in which the human and pony worlds have been in contact with each other for a few years.
Chapters (13)