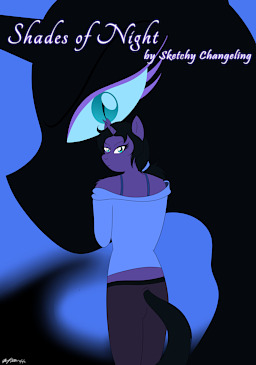 Everyone has their circle of friends in college. Mine is relatively small. There's me, Noah, an Astronomy major. There's Klaus, a griffon, and a Game Design major. There's Maud, an earth pony, and a Geology major...
and then there's Nightshade.
She's a transfer student from Equestria, and the most recent member of our circle. Klaus, Maud and I have known her for three months, and she's adjusted nicely to life in Florida. We all consider her to be a close friend, and she seems to feel the same way about us.
But as much as we'd all like to think that we know everything about our best friends, sometimes that isn't the case.
---
This is an HiE/Anthro story where humans and ponies have been in contact for fifteen years, and takes place after Season 3, but in an alternate timeline from Season 4. The story takes place on Earth, and because I know someone will ask: THIS IS NOT RELATED TO ANY OF MY PREVIOUS STORIES.
---
Credits:
Cover Art: Me
Editor: danail24
Creative Consultant: Dewybmt
Featured on 7/12/14!
Chapters (20)