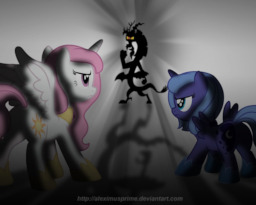 DISCLAIMER: I came up with this story in late 2011 and started writing it in 2012. There are tremendous inconsistencies you will notice in this story, mostly having to do with Starswirl the Bearded and the Elements of Harmony. This is merely due to the fact that I had the summary drafted long before we saw the Season 7 finale which completely debunked my head-canon. Even though I have been able to change some things in this story to fit along with some canon in the past, I have decided to not change anything about Starswirl or the Elements since it was already a good enough story and I want to complete it as I originally intended to. As of now, you can consider this story to be "alternate universe" or "fan theory".
The pony residents of Equestria live in peace in their magnificent kingdom ruled by King Solmidas and Queen Chernalia. As their two daughters, Princess Celestia and Princess Luna have both earned their cutie marks, it is now time for them to learn how to rule a country so that the crown can be passed on to them when the day comes for the King and Queen to give up their authority. With some training and help from their parents as well as the renowned unicorn wizard, Starswirl the Bearded, Celestia and Luna undergo many tasks and assignments. Once such assignment: making peace with the Griffon Kingdom lead by General Leogle.
Meanwhile, a wise magician and senator of the Alicornian parliament and a good friend to the royal family, known as Accord, sacrifices much of his own time to help improve the kingdom and make an even grander domain for the ponies he loves. Things seem to be going very well for the royals, but happiness soon turns to despair as the princesses' tasks become increasingly difficult and nearly impossible. Negotiations with the griffons continue to fail and rumors of war break out causing Celestia and Luna to doubt their abilities to rule Equestria.
Can the alicorns stop the imminent war to come between the once coexisting races? Why did general Leogle betray the alicorns so suddenly? And who is the real enemy in the midst of all this chaos? All will soon be revealed but it may come at the cost of dealing with the ultimate betrayal. Celestia and Luna will soon find that despite their failures, they are the only ones who can put an end to all of this. Together they will embark on a mission to save all of Equestria, unlock an ancient power hidden away for centuries, and learn that no matter how many times you fail, you are never useless and can still do great things if you believe in yourself.
Written by Aleximus Prime
Proofread by Starbat and Dynasty-Dawn
Please visit my Deviant Art for artwork based on this fic: http://aleximusprime.deviantart.com/gallery/38578033
Also be sure to check out my new Tumblr blog "Ask Accord" which ties in with this story:
http://askaccord.tumblr.com
Chapters (20)