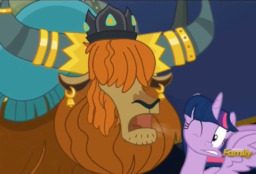 Will those Yaks never learn to behave?
Twilight has no idea how to handle the destructive, angry, and whiney attitudes of the Yak delegates when they come to town. She's tried being nice, she's tried giving everything they ask for, but nothing seems to make them happy. As a last resort she turns to her...er...friend Anon for advice.
Lucky for her, he has memories of community building from back when he was in a frat in college. Surely, what works on dumb new pledges will work on yaks, right?
-written drunk, should be read drunk too

-
Chapters (1)