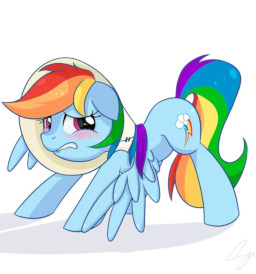 Source
Rainbow Dash doesn't get hurt often, but this time it's pretty bad and the doctors are making sure that she doesn't make it any worse. Thus, she's been given the dreaded cone of shame. The doctors have also asked you to help her get around and carry on with her daily life. You're a good friend to her (and just a friend), so that should be easy, right?
Done as a commission for Flutterpriest, who likes cute things.
Art by steffy-beff, go and give their work some love.
Chapters (2)