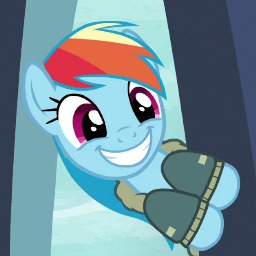 For Rainbow Dash, seeing is believing. When her friend Twilight Sparkle told her that "electricity is harmful to humans with enough likelihood that you should definitely not zap Anon with lightning bolts", she didn't listen. After all from the two of them, it was Dash who saw more creatures zapped with lightning. Most of those occurrences were her doing as well. And so she decided to knock down two apples with one stone - teach her book loving friend a lesson about who the real weather expert is, and cure the local oddity that was Anonymous the Human from his irrational fear. Oh, and of course have a blast doing it.
Things don't exactly go according to her plan however, and she ends up creating a bigger mess than she could comprehend - not only for herself and her target, but also a certain somepony who will have to abandon her ancient traditions and improvise on the spot.
---
Formerly marked mature for uncouth language and the death theme. I now have an actual 'death' tag though, so I dropped it down.
Merithorical proofreading and non-constructive feedback: Anoridan and Void Whisperer
Nitpicking and comma insertion: abronie
Chapters (3)