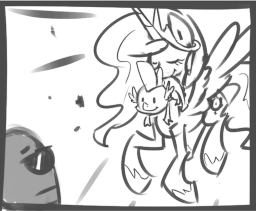 Source
Something about this pony world just ticks you off today. Things are poorly designed, poorly written, poorly paced, and you can't help but be annoyed by everything you see. Obviously, the best thing to do about all this is to complain!
You know that someone's got to be at fault for the state of things, and hopefully someone, or somepony, will fix it for you.
...Even if you hate the word somepony, oh my god, be more original for once in your life!
Contains a lot of sarcasm and some wall breaking. But mostly just whining.
P.S. Now with working cover art!
Chapters (1)