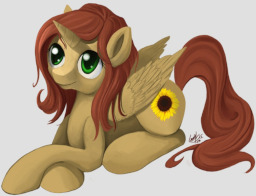 Source
This story is a sequel to Project Sunflower: Harmony
---
In every tale, there are unseen details. Small stories, often going unnoticed. This is a collection of those stories that relate to Project Sunflower: Harmony.
It isn't recommended to read these stories without reading the main story. Without the context provided in Project Sunflower: Harmony, it isn't likely that these chapters will make much sense.
Every chapter will have an author's note detailing where it fits in the main storyline. These chapters are intended to be optional to read, and are intended to add some depth and color to the main story.
Cover art by Genbulein
Chapters (9)