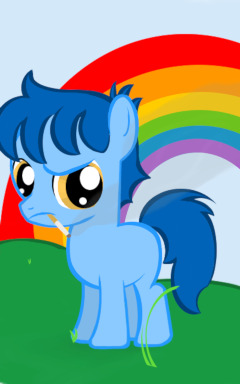 Source
Have you ever woken up somewhere you don't recognize? I have, once before. This time was not all that different. Headache? Check. Dry mouth? Check. Upset stomach? Check. Hooves? Uhm, that one is new.
Hi, I'm Bruce and I'm 32. Currently, I'm in a light blue Earth Pony foal's body no one has ever seen before. The rest of Equestria thinks I'm 9 and something really traumatic happened to me. It doesn't help I swear like a sailor and I could really go for a smoke right about now. I just hope that the Everfree Forest, rampaging monstrosities, evil dark abominations against God and the Cutie Mark Crusaders don't kill me before I have just one last drag.
Oh, and ponies are hella creepy when you really think about it. Geez.
---
A little comedy side project. EDIT: HAHA Main project. More characters to be added if I get that far. Categories might be refined as I write. Entire thing is unplanned except vaguely. Don't Expect excessive cursing to be written out, just hinted at. Oh, and as the character is a 30-ish year old in the body of a 9 year old, sexual jokes might exists but sex itself will not occur.
Special thanks to user Momomojito for the awesome-tastic picture! First fanart, I'm so HAPPY. I've gotten more since then! I should collect it all here. Collected!
Chapters (43)