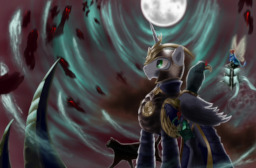 Source
When a Necromancer is hurled into the place between places then escapes to another world at the cost of his life it is not the end. Being a Necromancer he returns to life with ease, but is skirting the edges of consciousness, and unable to truly wake as a mysterious figure uses magic to put him on the back of a horse to carry him away into the night.
To make matters worse the phylactery he used to save his own life recreated him as a member of the dominant race with... some errors. His injuries are still present and he's now in a much smaller body with his magic drained to nothingness.
So now he's horribly injured, held captive by an unknown force, in an unfamiliar body, in an unfamiliar world and completely exhausted. He's had worse days. He just can't think of any off the top of his head. So familiar territory then, nothing to worry about.
(Thank you again Tulip for the amazing piece of artwork.)
On Hiatus due to Life. Sorry.
Chapters (24)