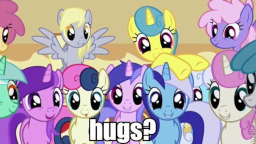 You're a random human on Earth trying to get some sleep, but these blasted ponies keep appearing in your room. You don't know where they come from, or how they got here, but they insist on sleeping with you in a non sexual manner.
Have you ever wanted to get cuddled by a pony? How about against your will? No? Yes? Either way you are getting cuddled whether you like it or not.
Warning: Adorable cuddling may or may not be suitable for younger readers.
Warning: I can't select all the ponies, but yes all ponies(and other species) are capable of cuddling you. No you're not safe.
Chapters (5)