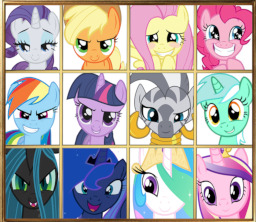 Author Note: This is something new I wanted to try. Contains 10% human, 90% ponies, and 100% fun-filled, cuddlelicious goodness. Not suitable for those allergic to cuddles. Please consult your physician before reading.
---
A young university student suddenly finds himself thrown from his homework studies into a land filled with more colour than Gears Of War, talking ponies with ridiculously huge eyes, and topped with so many cuddles that it makes Care Bears look like Michael Myers.
And for some reason, all of them come to the conclusion that he must be smothered in cookies and cream-delicious cuddles.
For some, it's heaven; for Jamie, it's his own little plane of hell that makes even Satan feel torment.
Inspired by Forced Pony Cuddles
---
Yay! Thank you guys so much for getting this fic in the featured box! You all deserve huge amounts of cuddles. And you're gonna enjoy it!
Chapters (20)