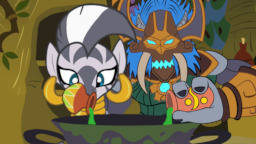 "Dey say that da Loa grant power to those that devote demselves. Power to those that give their life to dem. Power to those who will gladly cut out dere own hearts for dem.
"But I was never devoted. Never da life giver. Never da one to make sacrifices.
"Dey say that da Loa curse those, banish those, who do dem wrong. Do dem great 'injustice'. Make dem angry. And any troll with two and a half brain cells know that ya never want ta make a Loa angry.
"But I was never one for doing things da right way. Never one for justice. Never one to make people happy. I sure as hell am not one who makes da logical decisions. But now I pay da price of defiance against my people, against my race.
"But ya know what? This isn't a curse or banishment. This is just a new beginning in a world that I have been blessed with."
Chapters (1)