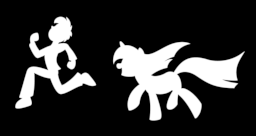 A young human called Alex is transported to Equestria without knowing how or why. After being discovered by Twilight Sparkle and her assistant Spike in the Everfree Forest, Alex soon learns that he is a very special case.
He now finds himself running for his life as everypony is out to get him.
Will Alex escape this ponified nightmare, or will he find himself as a prized catch?
This story was inspired by 'We will Catch You if we Can' by proto-alpha.
Chapters (27)