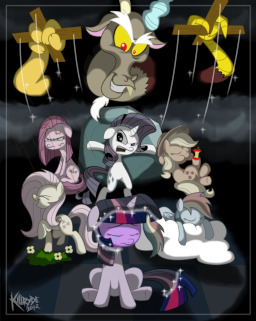 Anonymous Unknown the Human(You) is stuck working a dead end job day in and day out. Your life is so boring the only thing you do is eat, work, and sleep. But one fateful night Discord, The God of Chaos, visits Earth. When he comes across you he offers you an escape, one that you cannot refuse. When you are sent to Equestria you come to find out that Discord rules all and his reign, along with the antics of his daughters Screwball and Eris, has left a chaotic mess in their wake. You are forced into living here under the premise of making friends with ponies.
Why does Discord wish for you to befriend equines?
Why did he choose you of all the other humans out there?
How many friends will you make?
Why are the ponies he introduces you to gray and hostile?
Edited by: Detective Pingles http://www.fimfiction.net/user/DetectivePingles
Chapters (20)