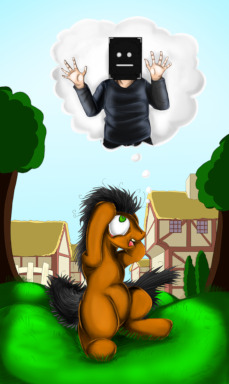 You know these stories where somebody suddenly wakes up with a creepy, unknown voice in their head? Well that's what's happening to me, except I'm that strange voice, and I'm not stuck in somebody, I'm stuck in somePONY.
How did I get here? And how will I ever find a way to go back without so much as a body to call my own?
Now with 100% more cover art thanks to the splendiferously awesome Exelzior! Go read his stuff instead of mine! Do it!
Rated teen for foul-mouthed protagonist. Expect bad words.
Chapters (13)