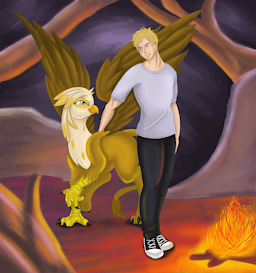 Source
Peter Collins. Full-time copy clerk; part-time competitive shooter and sketch artist. Not the most glorious life, but for an independent 26-year-old looking to make his way up the corporate ladder, it's not a bad start.
But the thing about one-in-a-million chances is that somebody has to be that one. And Pete has just found himself the winner of a bizarre cosmic lottery, giving him a free one-way trip into a land of magic and wonder: Equestria.
Unfortunately, the locals are skittish, distrustful of anything not their own, and outright terrified of whatever might be threatening to them. And with no way to speak to or understand them, what might have been a trip through paradise becomes a journey through a living hell, where the simplest of misunderstandings can bring the most dire of consequences. Alone, confused and desperate, Peter wages a one-man battle to escape a land seemingly out to get him, searching for a way back home, while the forces that protect this magical nation- ignorant of his goals and terrified that he may be a threat- do all they can to capture him.
How far can fear push us apart, what can it push us to do, when communication is impossible?
--
Partial rewrite finished. See this blog post for details.
--
Rated Teen for language and violence. This story was inspired in part by A Voice Among the Strangers by Tystarr, as well as Over the Edge and Through the Wood by JarOfHearts. Cover art graciously provided by the talented Sonson-Sensei! Also look here for the original cover art provided by Armalite.
Now with its own TV Tropes page due to the heroic efforts of redandready45.
Chapters (35)