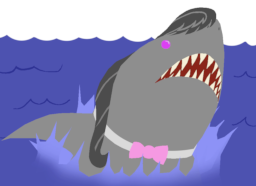 Source
Most heroes aren't born; they are forged in the fires of tragedy and quenched in a pool of vengeance.
Witness the beginning of the Sharkmare's legend, and ride the wave of excitement as she battles her greatest foe.
(The gritty reboot of the legendary Sharktavia franchise, part of the Sharktaviaverse)
---
Pre-read by Derpator, that sexy beast.
Cover art by Lord Destrustor.
Chapters (1)