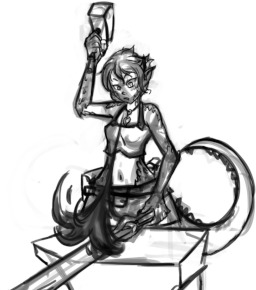 After a human wakes up to find that he's changed species and gender, he/she ended up spending a decade as an adventurer and after gaining a reputation as a member of a well-known group of explorers traveling the world. They have decided upon their next destination... Equestria.
But what led this human turned Dragon to this point?
This is the story of Flare Blacksmith, dragoness, traveler, Explorer, and did we forget to mention that she has a strong resemblance to a certain baby dragon named Spike?
---
This story is heavily inspired by the longtime favorite of many, Ten Years Gone, by Some Other Guy.
This is a prequel to a upcoming rendition of ten years gone called Ten Years Redone
I fully admit that the initial concept is not mine, and that some chapters have similarities to the original. I would gladly contact the author of the original if not for the fact that he has completely disappeared, and hast not been on the site for quite some time.
Artwork is not mine, source is unknown, All credit goes to them and I would be more than happy to accept a more original variation.
(Mac349: Mythic Void: Boldish42: official editor's and proofreader's)
Chapters (2)