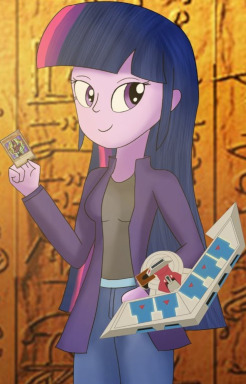 Source
Twilight crosses the mirror portal to pursue Sunset Shimmer after the theft of the Element of Magic. She finds herself in a world of odd two-legged creatures, and for some reason they're all obsessed with a card game called "Duel Monsters." Twilight soon learns that the only way to get her crown back is to win it in the school's semi-annual duel tournament, of which Sunset has been the reigning champion three rounds running. The tournaments have divided the school, and split up a group of five friends similar to Twilight's friends in Equestria.
Twilight now faces her biggest adventure yet. She must master Duel Monsters, reconcile these other versions of her friends, and defeat Sunset to win the Autumn Crown. And she has only three days to pull it off. It's time to duel!
Pre-read by The Albinocorn and RTStephens. Cover art by EGStudios93
View Twilight's deck here. View Sunset's deck here.
Reading by Martialartfruituser here
Artwork of the Harmony Spirits by Ajustice90. View them on DA here and here.
Chapters (24)