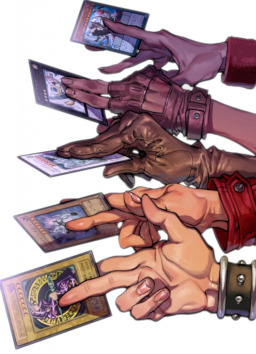 Twilight Sparkle is the personal student of Princess Celestia, principal and founder of the Eos Dueling School. After her warnings about the possible return of an ancient, evil being are dismissed, Twilight is instructed to go to Ponyville and evaluate a potential Duel Monsters school. There she will meet an unlikely bunch of duelists.
Applejack, a farmer with high level dueling skills. Rainbow Dash, who doesn't know the meaning of the word "defeat". Rarity, who wants to dazzle the world with her dueling skills. Fluttershy, a timid girl who can see more than she lets on and Pinkie Pie, an energetic girl who wants to make others smile with her dueling. They will all have to work together to face the return of the Maiden in the Moon.
A humanized crossover with Yu-Gi-Oh!
Chapters (17)