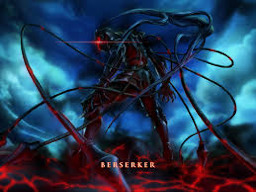 When Twilight Sparkle set out that fateful day before the Summer Sun Celebration to defeat Nightmare Moon and save Equestria, she thought that at worst she would have to deal with a mad pony goddess of the moon, but with the aid of Princess Celestia, she would surely over come that. She wasn't expecting there to be two bipedal monsters running around and sowing chaos in their wake.
Likewise, two certain cosplayers weren't expecting to be eaten by wormholes, and then spat out into Equestria. Thankfully, one is a brony, so he should be able to keep his pony-hating counterpart in check, right?
Well, he would. If only he hadn't decided to cosplay as a Berserker...
Crossover between MLP:FiM, Fate/Zero, and Warhammer 40,000.
Inspired by Malideus; Son of Invention; Of Blood, Skulls, and Friendship; and all of the other "superpowered human villain in Equestria" stories that are making the rounds right now. This is just my contribution to the bandwagon, so I encourage you to leave a review and tell me what you did or didn't like, but I will warn you up front, updates will likely not be on a regular basis. Let us not worry about that for now, though, and let us instead move on to the actual story, so just click that button there for the first chapter, and 'Allons-y!'
Yours,
Cog Archival
Chapters (2)