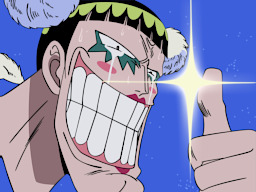 (Story Cancelled - I might write a new one with the same premise once I'm finished with my other projects.)
After being "killed" by Head Warden Magellan, Bon Kurei finds himself in Equestria.
How will the world's campiest shapeshifter cope with this strange place and its inhabitants?
How will the rest of the world cope with HIM?
A tale of friendship, fighting, and cross-dressing. No, seriously, there's an awful lot of cross-dressing involved.
A One Piece / MLP crossover.
My very first fanfic, also my first story written in English. Do tell me if you can see any amelioration that could be made, I would happily learn from my mistakes :p
Rated Teen because awesomeness is volatile. Also, cross-dressing.
Chapters (7)