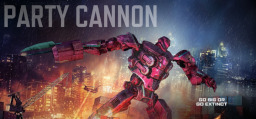 It has been eight long years; the world stands, but in ruins. The Elements of Harmony were powerless to stop them, magic is powerless to stop them. The only line of defense remaining, are the Jaegers; great war mechs designed by the greatest equine minds alive. The greatest of these, is Twilight Sparkle. Helping her save the world, one slain Kaiju at a time, are her friends; and races from around the world.
---
Author's Notes. This is a crossover story including Pacific Rim and MLP. This is not a retelling, nor are there humans. The concept is preserved, however, there are new exciting twists, as well as an original cast. Twilight and the other characters you know and love will not be filling the roles of characters from the movies. This is an original re-imagining and will tell a different, unique story.
Please Enjoy.
The Cover Art was done by a brilliant, mysterious man named CorneliusEdmond on Derpibooru.
Chapters (2)