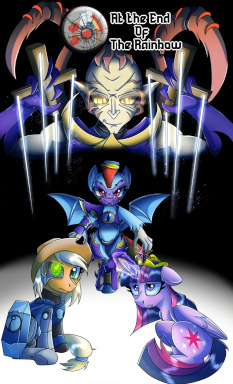 Source
This story is a sequel to The Descent into Madness
---
Two years have passed since Rainbow Dash returned from a galaxy that knows only war alongside Applejack and the splintered remains of the once proud Swooping Pegasi. Now, as in the wake of her first return, the world of Equis has rocketed forward, combining knowledge and technology of both the ancient Eldar and the young and vibrant T'au. No matter how much any may wish it however, no one touches war and leaves it forever.
When ponies start showing up dead, torn apart in brutal ways that would put even the most savage of Everfree beasts to shame, the blame falls solely on a singular pony. Once more, Rainbow Dash must fight for her life and everything she holds dear. She is not the same pony she was in her youth, her actions heinous in the extreme and her mind shattered by the horrors of what she has seen and what she has done.
As old enemies rise and untied strands become knotted, lines will be drawn for every creature on Equis, answer will be given, and finally, the world will see what lies at the End of the Rainbow.
------------------
This story is a sequel to The Descent into Madness which is itself a sequel to Swooping Pegasus. Reading both isn't required, but I would highly recommend it.
Artwork has once again been done by the massively talented El Mutanto.
Chapters (1)