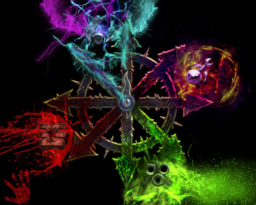 Source
It began like any other day in Equestria, ponies peacefully living their lives, knowing that if any danger appeared, Princess Twilight Sparkle and her friends would keep them safe, never even entertaining the idea that something was out there that not even the Elements of Harmony could defeat...and yet there was.
As everypony lived their lives in blissful ignorance, fire rained from the stars, destroying cities and burning forests.
By either luck or fate, Ponyville survived, but as the Element Bearers rushed to gather the Elements of Harmony, they found them powerless, for the Tree of Harmony had been destroyed.
When the fire stopped falling, metal pods fell in their place, and from these pods came horrible monsters the size of minotaurs covered in blood red armor, bearing a mark on their shoulders of a black bird and a crimson tear.
The monsters were without mercy or weakness, but as all hope was lost, the Element Bearers heard voices, promising them deliverence in exchange for servitude, caught between annihilation and slavery, Twilight and her friends made a choice...a choice that changed everything.
Chapters (1)